Your little super hero will love you for making this! It is so fun to let them turn on the lights and fall asleep under their favorite super hero city scape. I think this concept would easily work for any of the super heroes with their silhouettes on canvas too, but my son is ALL about Batman. You can paint the canvas and use pretty much any materials. I chose to keep it simple by using poster board, foam board, card stock, an unpainted canvas, and glue–super easy!
The lights were simple in the end, but took me time a LOOOOONG time to figure out how to attach them and what to do about the cords. I wanted to use LED lights because I read it's the safest kind to use in projects–don't quote me on that– but I didn't want wires hanging down since this would be going next to my son's bed. You could use the wire covers like these, but ultimately I opted for battery operated so I could move it if I ever wanted to and he could turn it on and off like a night light.
The Lights!
It was summer when I was buying the lights which is not as easy as the holiday season! I tried several different lights and these were the winner for this project. The LED light bulbs like you would hang-on-your-Christmas tree, tended to show through the canvas more spotted than I wanted. You could see exactly where each bulb was placed which might be minimized with painting, but I thought the white made the buildings stand out so I skipped the painting. These string lights did the trick in the warm white color and cool white would be a little brighter if that's what you're going for.
I used command strips to tape the lights to white foam board, which I cut little smaller than the canvas to allow it to be attached by duck tape. The great thing about command strips is you can can cut each piece smaller (save some money) and take them on and off if you change your mind on the placement–which of course I did–twice!
This is a 10 foot string on a 30 x 40 inch canvas.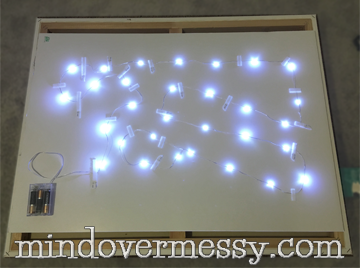 Since my son REALLY wanted to be the one to turn this on and off, I attached the battery pack to the side of the canvas so he can control the on/off switch. I attached it with this velcro sticky back tape and put a piece of duck tape over it just to reinforce it.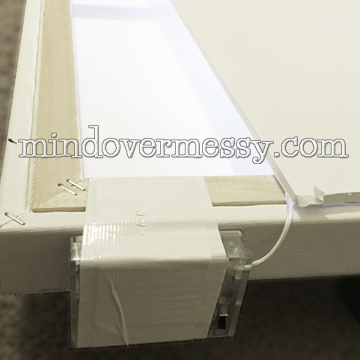 In order to cover the battery box and duck tape, I had the buildings extend over the sides. It gives it a multidimensional look and gives him an on and off switch! Anticipating that he would want this on ALOT, I used the same velcro strips to attach the set of buildings on the left side so that replacing the batteries will be a piece of cake.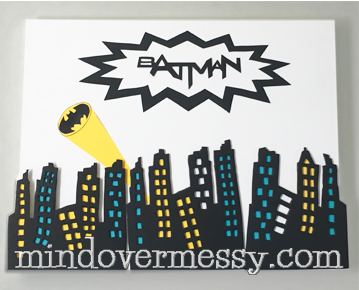 The buildings were made using black foam board from Hobby Lobby and an x-acto knife using the template below as a starting point. I made them a little taller and smaller based on where I placed the buildings on the foam before cutting it. The windows were tedious but I think it's what makes this project come out so cute. Put on some music, grab your patience and remember to put cardboard under the foam board so as not to cut up your table! I did not use a template for the windows, just the x-acto knife to mark the spaces first and then cut.
The colors in the windows are glued on the back using this Martha Stewart craft glue which I also used to glue everything to to the canvas (except for the one with velcro to be able to change the batteries). You could even use colored cellophane in the windows to make them more see through I bet, but I was happy with the colored card stock and leaving a few with nothing so they are white.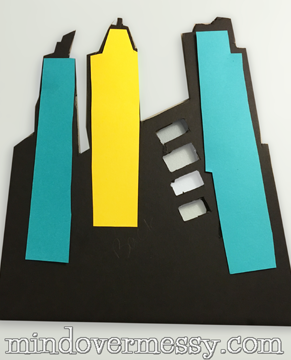 The rest is up to you how you want your super hero canvas to look and I bet your little one will be happy if you take this project on for him or her. I've included the templates I used to get you started and would love to hear about the versions you create in the comments below.
TEMPLATES FOR DOWNLOAD

NOTE: Before printing, change the orientation of the printer to landscape when needed.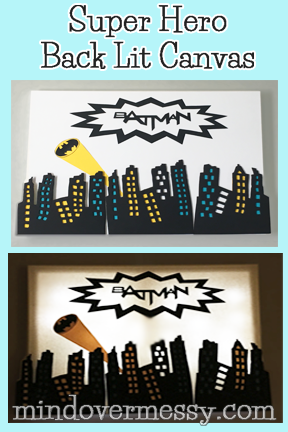 Isn't this cute by day, and super cool by night???

AFFILIATE DISCLOSURE: This post contains affiliate links. If you purchase any products through these links, the cost will be the same to you and Mind Over Messy will receive a small commission. Your support of this site is greatly appreciated!