When I first had my sons I this preconceived notion of what it meant to be strong. I thought it was falling down and not crying, not really needing to discuss emotions, being really assertive in sports, and of course loving ALL sports. I honestly thought having boys was a gift because I would escape any drama. Boy was I wrong!
I was wrong because boys do cry and need to be held. They do have emotional needs. Turns out they need more support than I had ever imagined!
AND, I've come to understand that crying and weakness do not mean the same thing.
What I found is that boys come out of the womb with their own personalities and needs, just like everyone else (who knew?).
They may love superheroes, and that is fine, or they may not. One of my boys dressed as Batman for almost a year and we would go everywhere with him in his costume. He ate dinner that way, played out front that way, I mean he lived in it.
My other son did not want to be Batman. He LOVES animals and wanted to be a bird (Here's how to make a bird costume, lol).
One son played soccer and he held up his arm like a super hero throughout the whole game as he charged.
The other one played and the first game he came over to tell us with outrage "They keep kicking me in the shins!" He was so mad about it. Which really, he had never experienced a game where he was kicked and it should be a lot of our reactions to our space being violated.
When they fell when they were little we would say, "Wipe it off. You're fine." Having no idea if they were fine but worried it would be embarrassing if everyone saw them crying. And following what everyone else seemed to be doing too.
What I've learned over the years is that real strength is not expecting them to never cry and just do whatever the other boys do.
I expected them to do things and behave "strongly" (emotionlessly?) just because they are boys. This was my bias.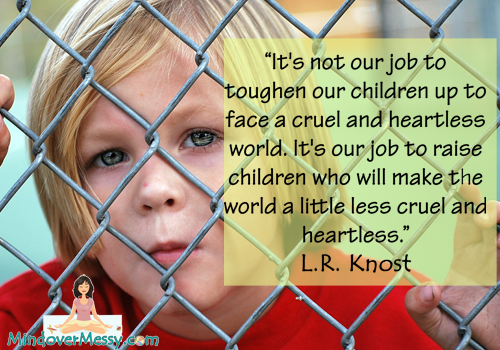 As parents, there is no guidebook, there is no way to know who is going to come into our lives when we take on the job, and I think we sometimes look to the outside world for how to handle it. I know I did.
I watched other parents because to be honest, parenting didn't feel natural to me. I couldn't draw on any prior experience and I didn't just KNOW what to do like I thought I would.
To me parenting felt like walking through a foreign country where I didn't speak the language.
Thankfully, having sons that really pushed me and REFUSED to fit into any mold, allowed me to learn how to listen.
It's been a balance of how to listen and offer support, and how to parent and provide guidelines (like be on time to school, brush your teeth well, eat your veggies, etc.).
AND what I've found is that is finding ways to support their passions, their emotions, their needs, I've seen them really be adventurous and be STRONG when they need to be.
For example, we went to Spain for three weeks. In the middle they came down with fevers, we experienced LONG delays at small and sometimes dirty airports without the adequate medicine or food we needed, and they were getting travel weary. We were walking 6-8 miles a day just to see one or two things and find food and waiting hours for dinner was hard for their ages of six and eight.
On one of our last days we went to Tibadado Amusement park on the top of a mountain in Barcelona (you have to go!). We took a taxi there with plans to ride the Funicular down to get home. It turned out my husband and I did not do the proper homework on how to get home! After having a great time riding rides and enjoying the park, we left at 8:30 when the boys were both exhausted. We rode the funicular down and got out only to discover that it only takes you half way down the mountain. We didn't know how to get a cab, nothing much was nearby, or how to get back to the hotel. There was a bus stop but we didn't have change!
The boys were TIRED.
We looked at them and they were just exhausted.
We decided to walk down the hill and see if there was a cab and if not we would come back up to a restaurant down the street to see if they could call one (we didn't want to do that first because it seemed like it could take longer and everyone else was headed there).
They did not want to walk.
We explained that we were sorry and it was the only thing we could think to do and we really needed them to be strong and walk with us rather than complain.
So they did. They walked with us through the dark, on uneven and broken sidewalks. Their feet were dragging but they did it and when a cab came around the corner they raised their hands high and yelled for it just as loud as we did!
Sitting in that cab I thought, I don't know what they will do as far as sports or activities, but I can see that they are learning to solve problems rather than complain about them. They are learning to pitch in and help.
Which made me so happy.
Which to me is real strength.
When you push on when your legs are so tired and you think you have nothing left. Believe me, I was starving and felt like I barely could walk another step too and they had done bounce houses!
They have parasailed, kayaked, zip lined, hiked, ridden big slides at water parks, and also color, play with play dough, spend hours explaining why that Pokemon card is so important, which makes our life so interesting.
They have also held it together when I took them up the gondola in Mammoth and we were evacuated because lightening hit nearby which was scary even for me!
So if they cry when they feel pain or sad, I support it. I want them to process their emotions and let them through. When they cry frequently, I look at our life, recognize they are tired and try to simplify things or feed them (usually the case!) and get them back on track. As long as they are learning to get by in the world, dig deep when they need to, I am happy.
Ultimately I've found that in supporting their tears, they actually cry less, and feel supported to solve their issues.
Read Related: Supporting My Sensitive Sons does NOT make them Wimpy
How about you? Did you expect your kids to have it more together? Were you surprised when they came out with a full range of emotions seemingly out of nowhere? I would love to hear about it in the comments.

Save
Save
Save
Save
Save
Save
Save
Save
Save
Save
Save
Save